Greetings!
What a wonderful last couple months we have had! WE have been busy with the hustle and bustle of the holidays and the day to day grind! In November we were able to work as a team to tie fleece blankets to be donated to the YWCA! This is always a fun day for our team as we get to reflect on the blessing we have and work together to help brighten other's holidays!!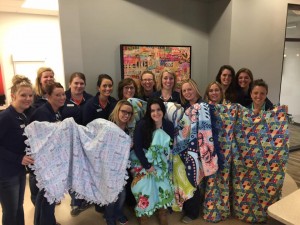 November is also the month that we celebrate the wonderful community of hard-working dental professionals with our annual movie night! This year we got to view the Fantastic Beasts on premier night. We had such a great time visiting with everyone in the industry and expressing our gratitude to everyone for all the hard work they do!
November was a wonderful, fun-filled month for us! :)
Thanks for being a part of what we do! WE TRULY LOVE WHAT WE DO EVERYDAY AND THE COMMUNITY WE WORK IN!